2010 ThinkForward Award от Beagle Research Group, LLC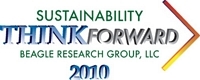 ThinkForward recognizes front office software companies for their important contributions to sustainability in business processes, cost containment and in building stronger customer relationships.
Winners of the 2010 ThinkForward award were evaluated for their ability to provide sustainable support for business in at least one of three dimensions — business processes, cost containment and treating customers as a renewable business resource. Most solutions do not reflect sustainability in all dimensions simply by their nature. Our interest was in finding the best examples of sustainability for each dimension of the front office software business.
2010 ThinkForward Award Winners
Brainshark
For business process innovation and cost containment
Cloud9 Analytics
For business process innovation and cost containment
Communispace
For business process innovation, cost containment and treating customers as resources
iCentera
For business process innovation, cost containment and treating customers as resources
Kadient
For business process innovation and cost containment
Salesforce.com
For business process innovation, cost containment and treating customers as resources
Unisfair
For business process innovation and cost containment
Zuora
For business process innovation and cost containment

---
:: Посмотреть все рейтинги >>>