Forrester Research, независимая исследовательская фирма.

Аналитический отчет The Forrester Wave™:
The Forrester Wave™: для больших организаций
1 квартал 2015 г.
Чтобы оценить состояние рынка Large CRM Suites, компания Forrester проанализировала сильные и слабые стороны систем ведущих поставщиков корпоративных CRM-систем.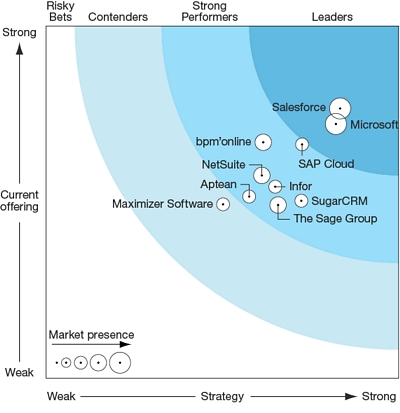 In the Forrester Wave: CRM Suites For Large Organizations, Q1 2015, Forrester Research pinpoint the strengths of leading vendors that offer solutions suitable for large and very large CRM teams. Here are some of key findings:
Salesforce, SAP CRM, Oracle Siebel, and Microsoft battle for the lead. Oracle Siebel CRM and SAP CRM are suited for CRM deployments that support very large teams, demand high levels of customization and integration, and have deep field service and industry-specific requirements. Salesforce and Microsoft Dynamics CRM deployments are typically smaller, have much less industry-specificity, and offer faster time-to-value with a greater ease of use. The market presence of these vendors reflects the maturity of their CRM capabilities, as well as company practices to make their customers successful.
Decisioning and analytics take center stage. Large organizations that manage huge volumes of data struggle to pinpoint optimal offers, discount levels, product bundles, and next best steps for customer engagement. They increasingly turn to predictive analytics to uncover and act on these insights. At Pegasystem's core is a predictive decisioning engine that infuses every CRM action along the customer journey. Oracle Siebel leverages a real-time

decisioning engine that programmatically learns over time and is able to maximize business value. SAP CRM offers prepackaged next-best action processes for sales and customer service interactions.

Three vendors offer breadth — but not depth — at lower price points. NetSuite, Infor CRM, and SugarCRM have traditionally targeted the midsize and small organization, but they also find a home in smaller divisions of large enterprises. These vendors offer a breadth (although not depth) of CRM capability at lower price points than those of the market leaders that have traditionally focused primarily on the needs of large enterprises.

SugarCRM, with its commercial open source development approach, is increasingly catching the interest of larger organizations in addition to its traditional base of smaller companies and individuals.
---
:: Посмотреть все рейтинги >>>