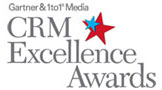 The Gartner and 1to1 Media CRM Excellence Awards
The 2011 Gartner & 1to1 Media CRM Excellence Awards, Americas, winners are:
Customer Analytics, Gold: Coop – Cooperativa de Consumo
Customer Analytics, Silver: Montgomery County
Customer Experience, Gold: CEMEX USA
Customer Experience, Silver: Jackson Hewitt Tax Services
Enterprise Efficiency, Gold: Vivint
Enterprise Efficiency, Silver: Jones Lang LaSalle
Integrated Marketing, Gold: International Speedway Corporation
Integrated Marketing, Silver: BCP
Social Engagement, Gold: Golden State Warriors
Social Engagement, Silver: J&P Cycles
The 2011 Gartner & 1to1 Media CRM Excellence Awards, EMEA/APAC, winners are:
Customer Analytics: British Gas
Customer Experience: University of New England
Enterprise Efficiency: British Telecommunications plc
Integrated Marketing: AKBANK T.A.S
Winners of the 2010 CRM Excellence Awards
1. Enterprise-wide (Merrill Lynch)—The processes and benefits of aligning multiple channels (online and off-line) and departments (i.e. marketing to sales, sales to service, service to finance, etc).
2. Growth (Navy Federal Credit Union) —Organization that can point to the most significant improvement in customer value, such as revenue growth, wallet share, products per person, frequency of purchase.
3. Efficiency (Diefendorf Capital Planning Associates)—Reducing operational and interaction costs without a detrimental impact on the customer experience. Excellence in efficiency improvements in sales, marketing, and customer service.
4. Customer Experience (Sprint Nextel) —Organizations that can demonstrate commitment and a top down focus on the ongoing enhancement of the customer experience, that ultimately results in an improvement to customer retention, satisfaction and loyalty.
5. Innovation (drugstore.com, inc. ) —The most innovative use of new channels and points of interaction (POI) (e.g., social networking analytics, virtual worlds, mobile) to support or enhance an organization's customer strategy.
---
:: Посмотреть все рейтинги >>>